Baked Sambusas stuffed with chicken, these are triangular pastries made with home made yeast bread a great alternative to fried sambusas.
For the dough
3 1/2 cups all plain flour
2 tablespoon oil
1 egg
1 cup milK
2 teaspoon yeast
In a mixing bowl, mix together flour, yeast, salt,egg and oil and add the milk until combined.
Knead the dough for 5 minutes until a soft dough is formed use more flour if sticky.
Place the dough in bowl and let it rise for 1 hour or until doubled in size.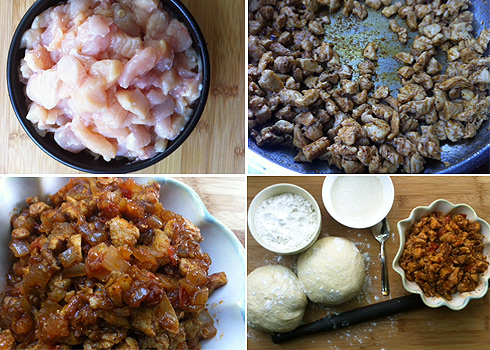 To make the chicken filling
2 tomatoes, chopped
1 lb chicken,breast, cubed
2 tablespoons oil
1 large onion, finely chopped
2 garlic cloves, finely minced
1 teaspoon ground turmeric
1 teaspoon cumin
salt
pepper
Heat the oil in a skillet , sautee the chicken on a high heat until all brown, reduce the heat and the onion cook for 3-5 minutes, add the garlic.
Add the tomato and cumin and turmeric. season with salt and pepper. Cook until tomatoes are tender. Remove from heat and let it cool before assembling.
Assembling:
Divide the dough in to 12 portions, roll each out 8 inch, then cut each circle in half.
Take one piece and fold like cone and seal the two edges with a little water or a flour paste (few tablespoon of water and flour mixed).
Fill with the chicken filling, seal the top edges with water or flour-water mixture.
then pinch making sure there are no holes, repeat with the remaining dough and filling.
Bake 350 for 40 minutes or  until golden, serve warm.