Cheesy saucy beef lasagna with ricotta cheese, absolutely delicious, precooked lasagna sheets where used for a hassle free baking. Enjoy this with a side of a salad.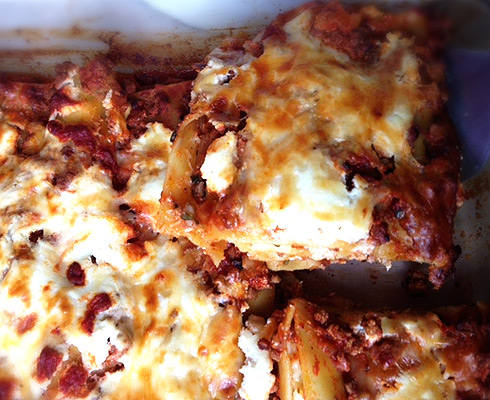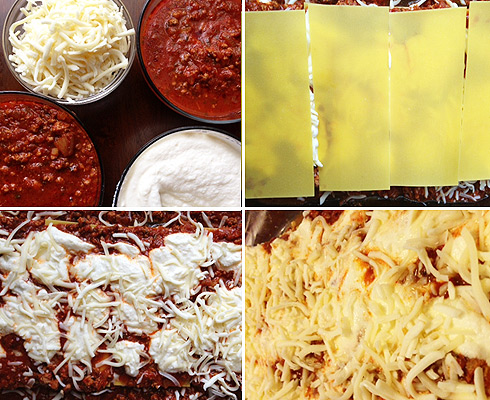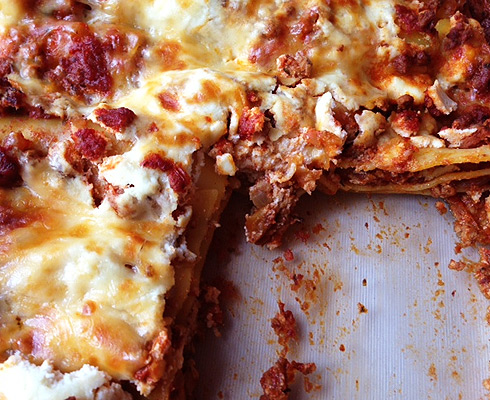 Beef Lasagna
2013-07-11 09:59:26
Ingredients
12 sheets precooked lasagna
15 oz 425g Ricotta cheese
1 cup milk
1 egg
2 cups grated mozzarella cheese
Sauce
1 onion, chopped
1 lb lean ground beef
2 tablespoons oil
3 garlic cloves, minced
28oz canned chopped tomatoes
1 tablespoon chopped fresh coriander/cilantro leaves
2 tablespoons tomato paste
salt and pepper
Instructions
To make the sauce, heat the oil in a large pan over medium heat add the meat and cook until browned stirring frequently. Add the onion stir and cook for 5 minutes.
Stir in the tomatoes, coriander/cilantro leaves, garlic, tomato paste and cook for 5 minutes. season to taste with salt and pepper, cover and let it simmer gently for 45 minutes, siring occasionally.
In a mixing bowl whisk the egg, then add the ricotta and the milk and mix until combined.
Preheat the oven, 375f/190c.
Spoon a thin layer of the sauce on the bottom of an ovenproof dish, then arrange sheets of lasagna over. then spoon over a layer of the ricotta mix then some mozzarella cheese.
Continue the same process twice, finishing with a layer of ricotta. sprinkle over the mozzarella.
Bake covered for 30 minutes then uncover and cook until golden-brown and bubbly. serve immediately.
My Somali Food http://www.mysomalifood.com/
Lasanye iyo hilib loaad
2013-07-18 10:18:21
Waxa loo baahanyahay
12 lasanyada la karkariyay (precooked lasange sheets)
15oz/425g burcad (ricotta cheese)
1 koob caano
1 beed/ukun
Sanuunada
1 basal lagoogooyay
1 lb hilib duqad ah
2 malqaacadood saliid ah
3 jeex oo toon ah
280g tamaandhada daasadaha
1 malqaacad kamasaro
2 malqaacadood tamaandho gurgur/shiid shiid
milix iyo filfil
Habka loo samaynaayo
Disdi dabka saar saliida kushub, basasha ku shaaxidi.
labada tamaandho, kamasarada, iyo toonta kurid disdida oo karkari ilaa 5mir.
Milixda iyo filfil kudar, dabool oo karkari ilaa iyo 45mir.
Kolba adiigoo yara eegaya walaaq hadii biyo u baahdo kudar ilaa 2-3 koob si aynay u adkaan.
Madiibad yar soo qaado oo ku qas beedka rikotada kudar iyo caanaha sifiican iskugu walaaq.
Ofinka siishid oo ka dhig 375f/190c
Weelka aad lasanyada ku karinaysid soo qaado, ku bilow duqada oo wada
gaadhsii dhowr malqaacadood, dabadeed kuxigsii lasanyada deedna ricotada
iyo inyar oo jiista looyaqaano (mozzarella).
Sidaa ku wad adigoo dusha ugu dambaysiinaya duqada,ricotada iyo jiista.
Ofinka geli oo kudabool (foil) markay 30mirir ka soo wareegaan daboolka
ka qaad oo kar kari ilaa inta ay lasanyadu bislaanayso dushana
ay ka shaaxidayso.
My Somali Food http://www.mysomalifood.com/