Pan fried flat bread made with semolina flour, these are mini little muufo's they cook up fast on a nonstick griddle. Serve with your favorite stew or soup. They are delicious on their on or with cream cheese, jam or with a drizzle of honey.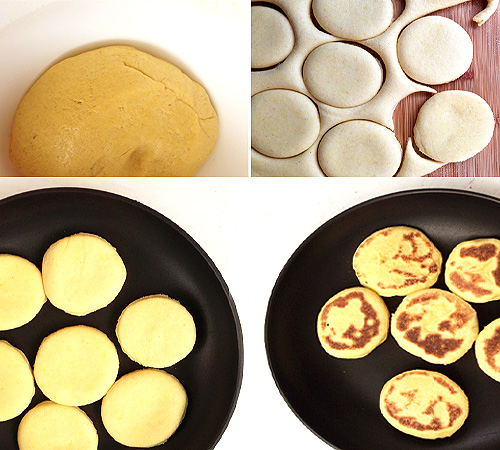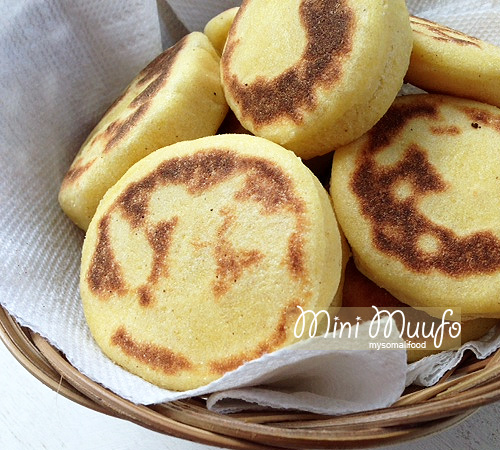 Mini Muufo
2013-08-19 21:21:16
Ingredients
21/4 cups/350g semolina flour
1 tablespoon sugar
1 teaspoon salt
2 teaspoons baking powder
1/4 cup/50ml oil
1/2 cup/100ml milk
1 egg, beaten
Instructions
In a bowl mix all the dry ingredients.
add the egg milk and oil and stir until combined.
Knead for few minutes until soft dough but not sticky.
Add more flour if needed.
Let it sit for 30 minutes.
Roll the dough on a floured surface.
Cut with a cookie cutter or a glass.
Heat a nonstick pan on a medium heat.
Place the cakes to cook each side for about 4 minutes.
Serve warm with stew.
My Somali Food http://www.mysomalifood.com/
Muufo YarYar
2013-08-19 21:23:53
Waxa loo baahanyahay
21/4 koob/350g daqiiqda samolina
1 malqaacad sonkor
1 malqaacadyar milix
2 malqaacadood yaryar bikin boodhe
1/4 koob/50ml saliid
1/2 koob/100ml caano
1 beed oo la qasay
Habka loo samaynaayo
Madiibad ku shubo daqiiqda, bikinka, sonkorta, milixda.
Caanaha, saliida iyo beedka kudulshub oo isku walaaq.
Dabadeed xash oo waa in jilayc noqoto oo aanay isku dhegdhegin.
Daqiiqyar isticmaal hadii aad u baahato.
Dabool oo ilaa labaatan mirir iska dhig.
Lawax daqiiqda aynu xashnay, koob soo qaado dabadeed ku goo goo
adigoo sawirka dusha tusaale ka qaadanaya.
Kadib maqli(ka aan wax ku dhagin) kululee dabkana dhexdhexaad ka dhig.
Muufada dulsaar oo Ilaa intuu qaado maqligu.
Dhinac walba ilaa 4 mirir ku dub bilaa saliid.
My Somali Food http://www.mysomalifood.com/