Muufo, Somali flat bread traditionally baked on a clay oven, every body has their special way of making it and this is the way I make it. In this recipe the key ingredient used is precooked white cornmeal which gives a nice texture. The dough is kneaded and the shaped with hands. The muufo is then pan fried with small amount of oil or alternatively it can be grilled on a griddle. Experiment as see what will work for you.
You can eat this bread with any stew, sauce or soup, you cut up in small pieces then ladle with your soup or stew then add sliced banana and drizzle of sesame oil.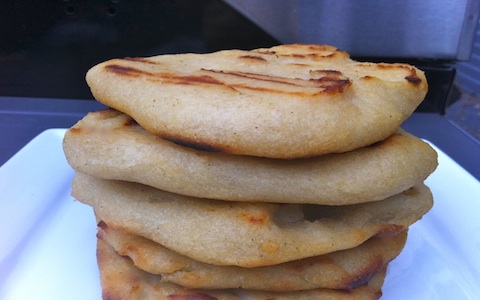 Muufo
2013-06-09 13:32:58
Ingredients
1 cup cornmeal (precooked, "PAN")
1 cup plain flour
1 teaspoon baking powder
2 teaspoons sugar
1 teaspoon salt
1 tablespoon of oil, and more for cooking the muufo
Instructions
In a mixing bowl add cornmeal, plain flour, baking powder, sugar and salt, add just enough water to make a
soft dough, add about 2 1/4 cups of warm water, more flour if sticky and more water if too dry.
You can use the dough right away or let it rest for 20 minutes to overnight.
Heat a non-stick fry pan on a medium heat.
Divide the dough into 6 equal pieces then leave them covered.
Using your hands flatten each piece in to a 4 inch/ 10 cm diameter.
Use little bit of water to wet your hand, so the dough won't stick.
Fry each bread until golden brown 4 to 5 minutes on each side.
Alternatively use a griddle and brush each muufo with some oil and
turnover when the bread comes of the griddle about 4-5 minutes.
Serve with your favorite stew.
My Somali Food http://www.mysomalifood.com/