Satisfy your sweet tooth with this pineapple upside-down cake, bursting with cardamom flavor, it is best if you grind the cardamom  just before using in your recipe, that way you it is more fragrant.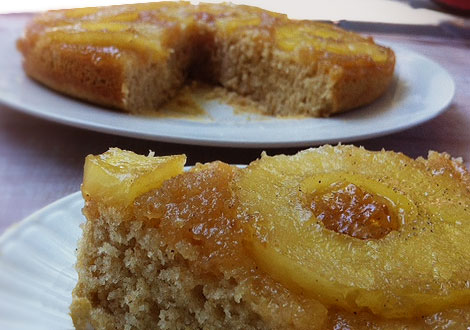 Ingredients:
1 cup sugar
1/3 cup water
20 oz/ 567 can pineapple slices
1 1/2 cup all-purpose flour
1/2 cup wholewheat flour
3/4 cup packed light brown sugar
2 eggs
1/2 cup buttermilk
1 teaspoon cardamom powder
2 teaspoon baking powder
1/4 teaspoon salt
1/2 cup butter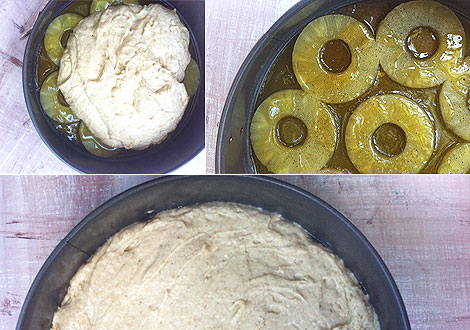 Directions:

Preheat the oven to 350 degrees Fahrenheit .
Generously butter a 10-inch dish and arrange the pineapple in the dish about 8 slices.
Combine 1 cup sugar and 1/3 cup water in a small pan and cook until it turns gold, don't stir only swirl.
Pour over the pineapple slices, cover evenly.
In a large bowl beat the butter add the sugar and beat light and fluffy.
Add the eggs beating after each addition..
Add the buttermilk, cardamom, vanilla, beat just until blended, add the flour, salt and baking powder.
Spoon the batter over pineapple topping spread evenly, bake in the preheated oven about 45 or until it is cooked in the middle.
Cool the cake for 5 minutes, invert the cake into a flat plate.
Serve warm or room temperature.