Injera is a staple Ethiopian Sourdough flatbread. It is usually made from teff flour, with the mix of other flours this recipe includes corn. My version of the sourdough Injera is quick and easy and you will have less than few hours on your plate, for the sour flavor you will need an active sourdough ready. The chicken stew also called doro wat compliments the sour Injera's.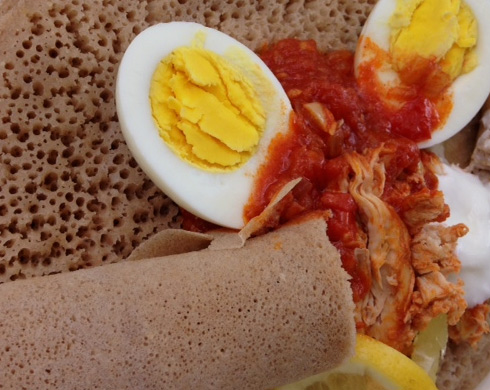 Injera: Ethiopia Sourdough FlatBread with Chicken Stew
2013-06-05 14:03:32
Injera
2 cup all-purposeflour
½ cup cornmeal flour
½ cup teff flour
2 teaspoon yeast
1/2 cup sourdough starter
3 1/4 cups lukewarm water
Doro Wat / Chicken Stew
4 tomatoes, chopped
1-2 tablespoons tomato-paste
4 chicken legs and tights
1 large onion, chopped
3 cloves of garlick, minced
2 teaspoons ginger, chopped
4 hard-boiled eggs
2 tablespoons of berber
3 tablespoons oil
salt to taste
For making the Injera
In a mixer or a blender combine all the ingredient and mix or blend until there are no lumps.
Cover and set aside to rest at a warm place for 2 hours.
Heat a nonstick skillet on a medium heat.
Take about ½ cup of the batter and pour it in the skillet tilting to coat most of the bottom.
Cook, until moisture has evaporated and when lots of holes form in the injera and the edges lift from the pan.
Remove and let cool each injera before stacking them as you go along.
To make the chicken stew "DORO WAT"
Heat the oil in a pot add onions and cook for 3 minutes add ginger, garlic, berber and the chicken. Continue to cook until the chicken browned, season with the salt.
Add the tomatoes and the paste cook, stirring occasionally until reduced and darkened, add 2 cups of water bring to a boil then cook covered until the stew is tick and the chicken is tender. Serve over the injera
My Somali Food http://www.mysomalifood.com/