Somali Sambusa is a stuffed triangular pastries that are very popular appetizers served not only during Ramadan, but any on occasion as an appetizer, they come with all kinds of fillings.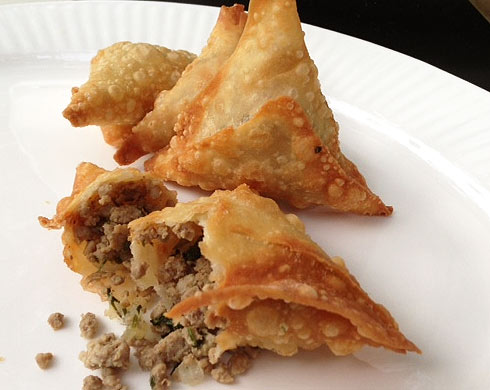 Somali Sambusa with ground Beef or Lamb
2013-07-15 09:01:07
For the filling
1 pounds ground beef/lamb
2 tablespoons oil
1 small onion, chopped
2 teaspoons coriander powder
2 tablespoons cilantro, finely chopped
green onion, chopped
2 teaspoon cumin powder
2 teaspoon cardamom powder
1 teaspoon salt
1 teaspoon pepper
1 green chili
1 clove garlic, minced
oil for frying
For the flour paste
¼ cup all-purpose flour
¼ cup water, or as needed
For the Sambusa wrappers
3 cups plain all-purpose flour
2 table spoon oil
1 cup Luke warm water
salt
To make the Sambusa wrappers
Mix the flour oil and the salt, while using a fork mix in the water slowly, knead the though for 5-10 minutes until smooth and pliable dough.
Form the dough into a ball and coat the outside with oil. Cover and set it aside for about 15 minutes.
Heat a skillet on a medium-low heat.
Knead the dough again and divide it into 8 equal portions
Form each portion into a ball.
Using two balls at a time roll both in 5inch brush one with oil and put the other one on top. Press with your fingers to make sure they line up, roll on a floured surface to flatten with a rolling pin about 10-11 inches in diameter.
Cut into four peaces with a sharp knife, roll each peace again so it keeps its shape.
Place each peace on the warm skillet and leave it each side to dry it out (make sure you don't leave it too long).
Remove and let it cool slightly then separate the two slowly without tearing the wrappers.
Cover with a towel and continue to repeat the same steps until you have finished all peaces.
Making the Filling
Cook the meat in a skillet with a little oil on a medium heat.
Add the onions and green chili, stir until tender
Then add coriander, cumin, cardamom, salt, and pepper, garlic, green onion and the cilantro. Cook briefly for few minutes
Let the filling cool at room temperature.
Flour paste
In a small bowl, mix flour and the water to make a smooth paste.
Assembly
Pick one the sambusa wrappers with your hands and fold it into a cone shape seal it with flour paste.
Fill the cone with the filling and close the top into a triangle shape and seal it with the flour paste.
Pinch the edges so that it is completely sealed.
Continue filling the rest of the sambusas.
Heat the oil in frying pan, fry the sambusas until golden brown.
Remove and drain on paper towels.
Serve while warm.
My Somali Food http://www.mysomalifood.com/